(2023 UPDATE) Future Fragments Demo | 18+ Adult NSFW Hentai Platformer w/ Story & Voiceovers!
A downloadable game for Windows
NOTE: THE ANIMATED GIFS AND GAMEPLAY SCREENSHOTS ON THE PAGE ARE CURRENTLY OUTDATED AS THE CURRENT DEMO IS FOR THE "VOLCANIC MINES"; WE WILL BE UPDATING THESE ONCE THE POLISHED BUILD IS OUT SOON
We're on Steam; please consider wishlisting us there!

Getting lots of wishlists helps us out massively with the Steam algorithms by allowing us to move higher up in the suggestions!
-----------------------------
Hey there! We're working on "Future Fragments", a NSFW, 18+ only hybrid platforming / run 'n' gun / RPG game!

Steam - https://store.steampowered.com/app/1238920/
Twitter - https://www.twitter.com/hentaiwriter
Discord - https://discord.gg/puXrfSm
-----------------------------
NOTE: This game features nudity, sex, and adult-only content. Don't download it if you're under 18!
If you're of age though, you should continue reading on down below to find out all about this game, what's in this demo, and what we've got planned.
Also, this demo is FREE, but it does have the option to tip when you download: if you do want to tip us, we appreciate it, but we won't be able to give you any of the rewards you would have gotten if you pledged to us on Patreon instead!
So if you want to support us AND get rewards, we've got a Patreon up at http://www.patreon.com/futurefragments; we appreciate any and all support, and there's a lot of neat rewards (including a level editor!) that you can read about over at the Patreon or with the brief summary down below.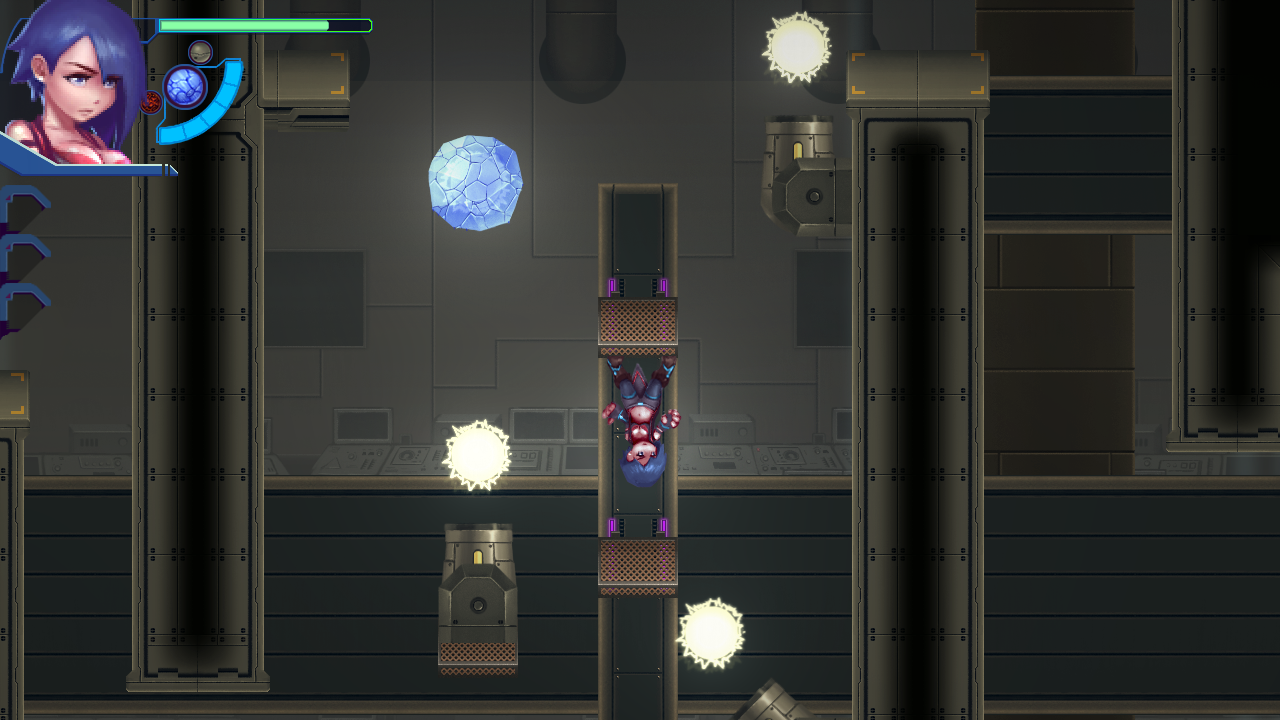 ------------------------------------------------------------
The current Volcanic Mines demo posted here on Itch.io is the most current version of the game, and it has the following content;
4 enemies with 2 sex animations each
1 boss with a lengthy sex animation
3 long cutscene-based sex animations
5 game over CG scenes, with 2 variations each (first time around and second time around)
36 main maps across 6 paths
16 boss puzzle rooms
2,500 lines of dialogue, across 4 hours and 15 minutes of spoken audio, with 16 voice actors/actresses
25 songs (with about 10 of those being variations of the main track due to the dynamic audio)
30 total cutscenes with over 90 variations of the ways they can play out
30 databanks with over 50 variations in reactions
18 powerups and 3 charge shots, 2 utility abilities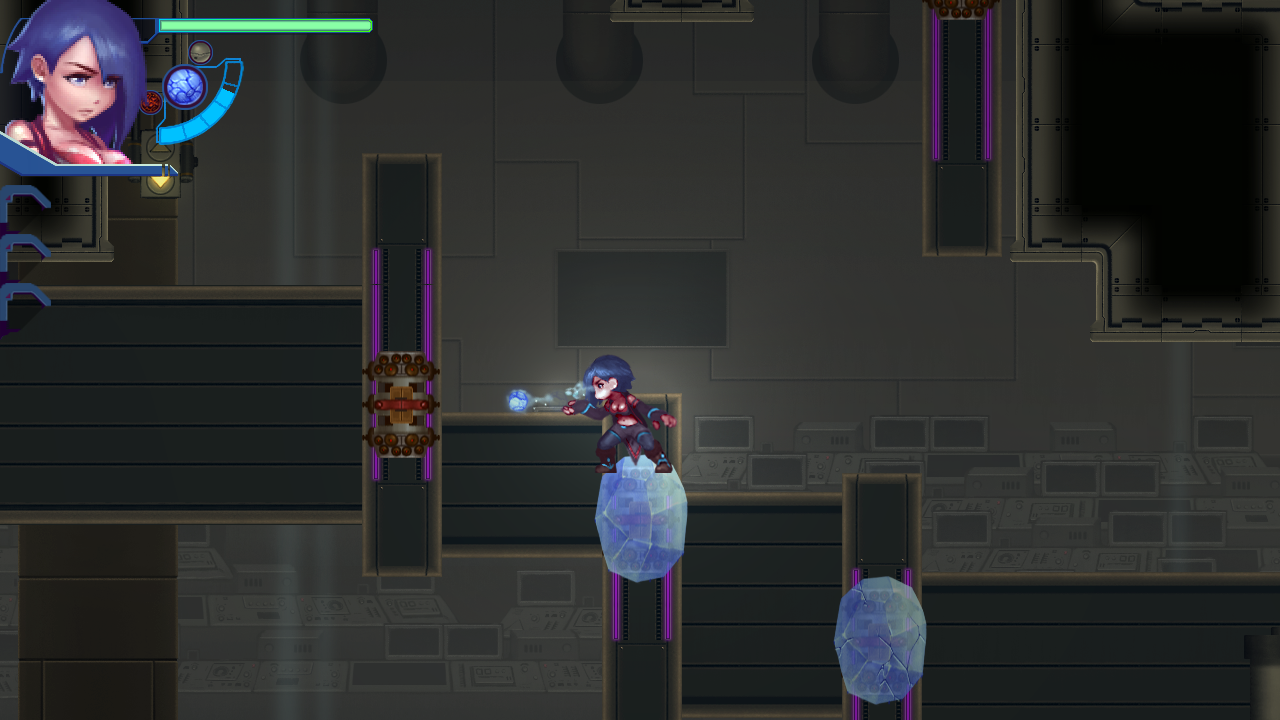 ------------------------------------------------------------
BACKSTORY (If you don't want to read this, there's an opening cinematic at the start of the game that covers all this; we'd still suggest you check out the game features below this though!)
The game starts off in the year 1000 AD, where your King, a powerful sorcerer, has been having trouble keeping your kingdom protected from those who would try and harm it.
He's attempted to train multiple promising citizens into mages to help defend the kingdom, but unfortunately only two of them had enough talent to become true magicians; Talia (that's you!), a 21-year old, serious, "by the book" long-range specialist and Faye, a 22-year old, acerbic, arrogant short-range specialist.
All seemed lost as the kingdom was slowly losing ground, but then your King stumbled on a miracle solution. Using his powers to rip a portal open to the future, he was able to find a powerful weapon, sitting disassembled in fragments, in the year 3000 AD. Thus, your King's orders are simple and direct; find the Fragments and return home safely. Additionally, whoever brings back the most pieces will be designated the King's right hand woman, with all the power that that brings. Unfortunately for the King though, the two women each have their own motives...
And of course, there's threats in the future, too. Mainly, there's the World Organization for Regulation of the Masses, abbreviated "affectionately" as the WORM by the few remaining rebels who fight against it. Even worse is that sex and relationships, being seen as a waste of time that could be spent working, are both outlawed by the WORM (people are created through cloning and other means).
This means that quite a few people are very, VERY desperate for sex in the future... and on top of all that, if you want to survive, you'll need to figure out the truth behind the Future Fragments.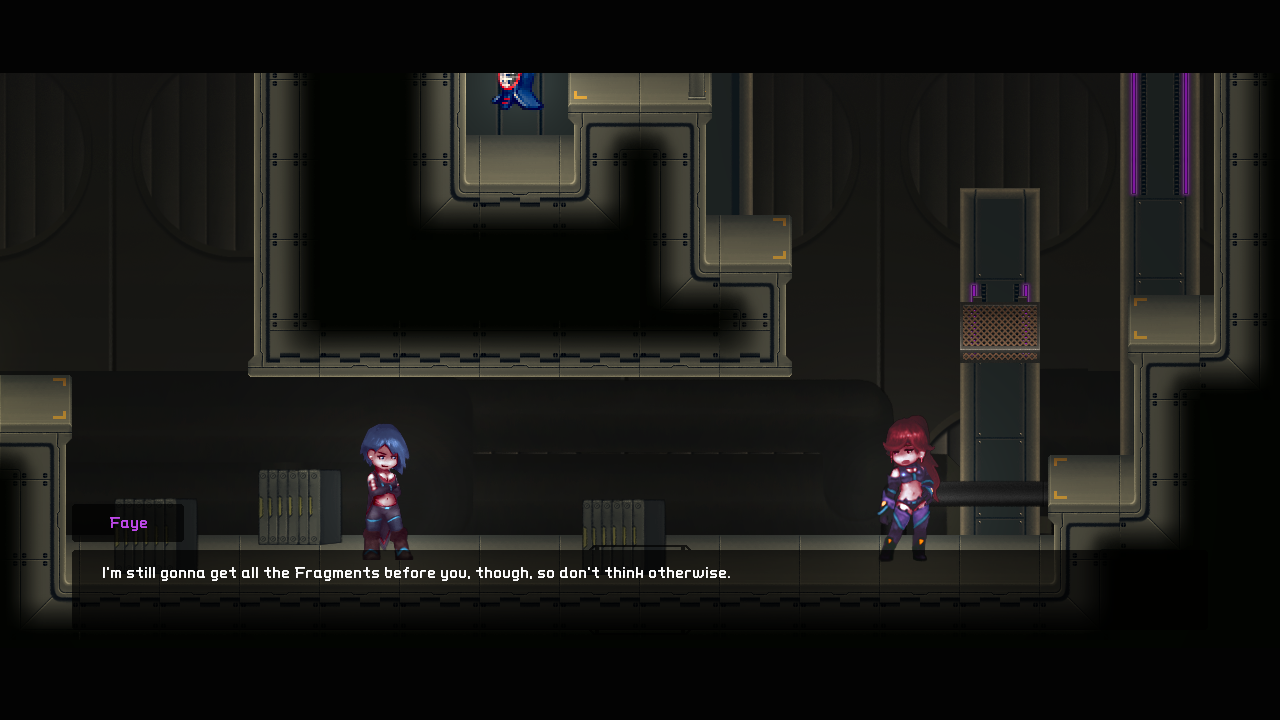 ------------------------------------------------------------
GAMEPLAY FEATURES (for the full game)
20+ enemies, 6 bosses, and 90+ H-animations!
150+ optional interactive cutscenes; your choices during them matter, and based on what actions you take throughout the game, you'll end up with one of 40+ possible endings!
200+ optional databanks to read to find out more of the story of Future Fragments!
50+ powerups; you can mix and match up to 3 at a time!
25+ hours of professional voice acting for the entire game across 30+ voice actors!
5 expansive stages, with lots of secrets to find; Fire, Ice, Electric, Earth, and "The End", each with significantly different aesthetics!
A Hub Map system that allows you to choose the order you complete maps in!
Multiple mechanics per level, making each level a new experience gameplay-wise!
A fleshed out, mystery-driven plot that you can skim the surface of or dive deep into it, it's up to you!
New movement abilities per level once you've defeated each boss, as well as new attacks!
Dynamic music and sound that changes based on the events going on around you, in real time!
After launch, we'll be translating the game into Japanese, Chinese, French, Spanish, and other languages (text only)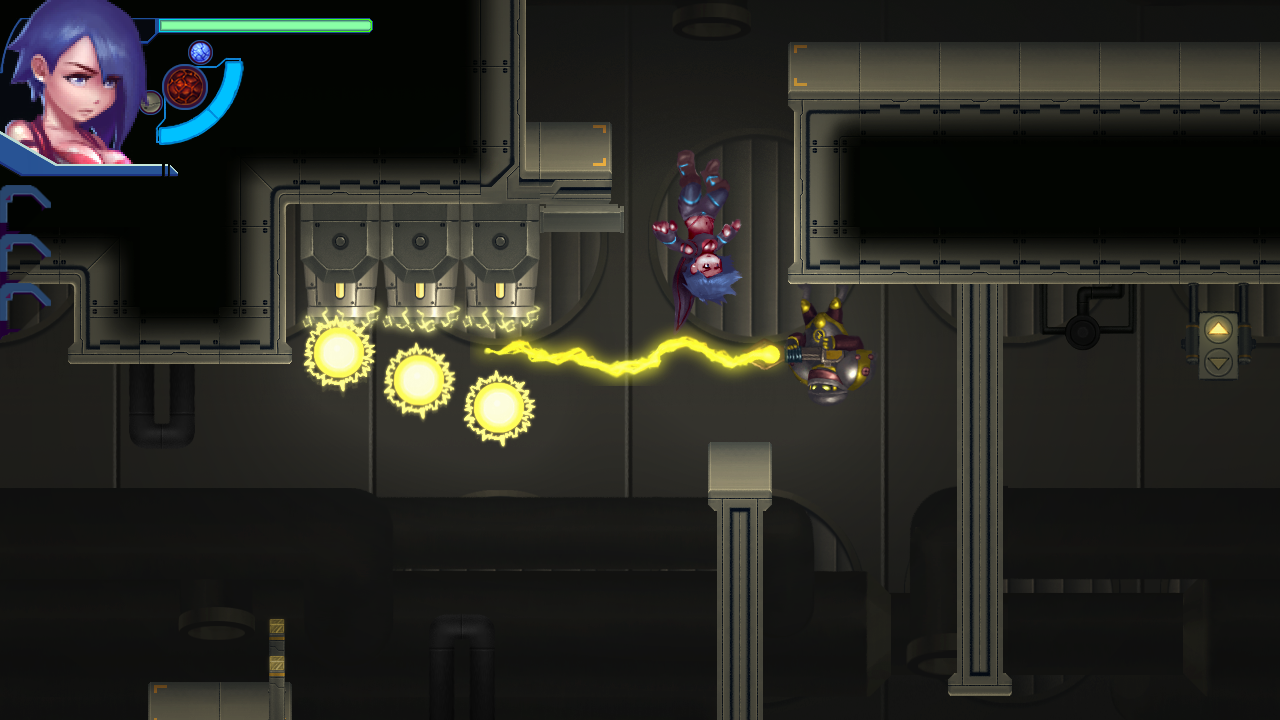 ------------------------------------------------------------
THE TEAM
All three of us share game design ideas for the game, but in general, here's who we are and what roles we're mainly filling.
HentaiWriter - Story, Marketing/PR, Level Design, QA
TriangulatePixels - Sprites, Backgrounds, Animation, Character Design
FrougeDev - Programming
We're also working with a number of other talents for audio, including;
SilkyMilk (Talia and Vie's voices)
MochaBlob (Faye's voice)
Shep Johnson (Seeber's voice)
Wishful Simping (Music)
Lewd K. (Sound Effects)
And a whole host of other voice actors and actresses!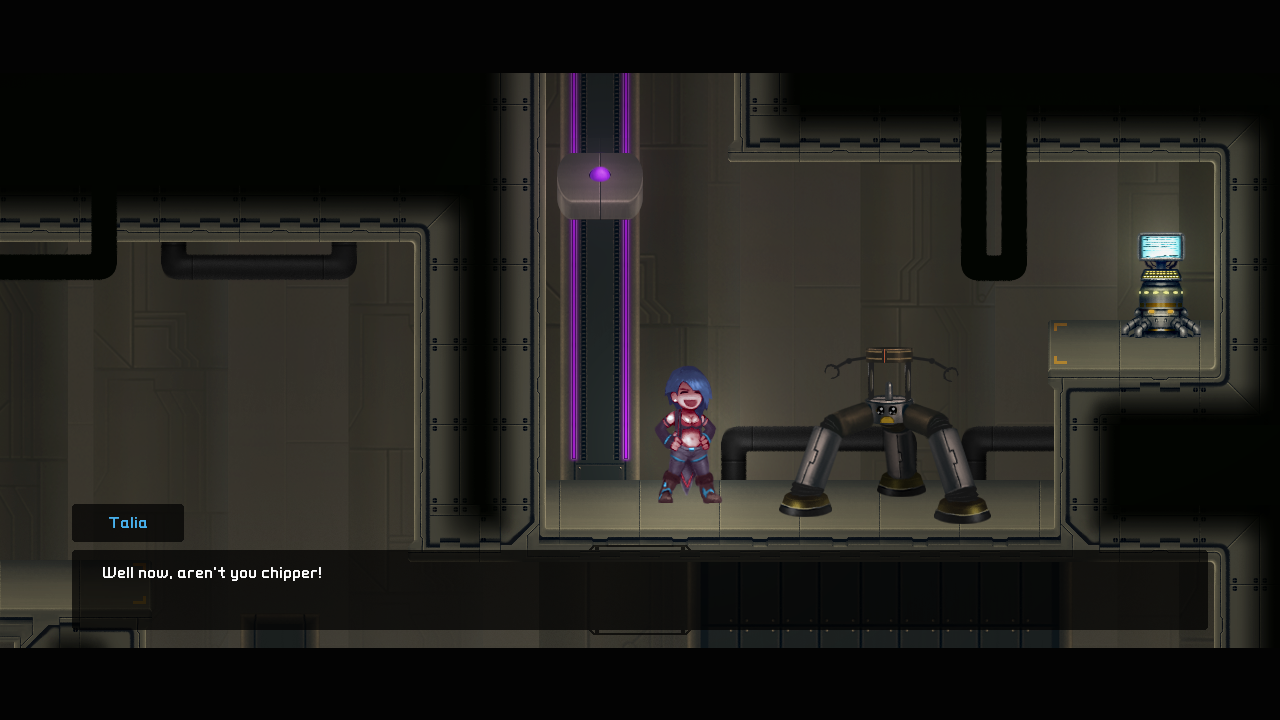 ------------------------------------------------------------
EXPECTED COMPLETION DATE

For those wondering about this, we expect to have the full game completed sometime during 2023, and it will be available on pretty much every site you can think of (including Steam), so you'll definitely be able to find somewhere to purchase it.
------------------------------------------------------------
Finally, here's a quick shot showing off the other four levels in the game; you can play versions of these levels over on the Patreon!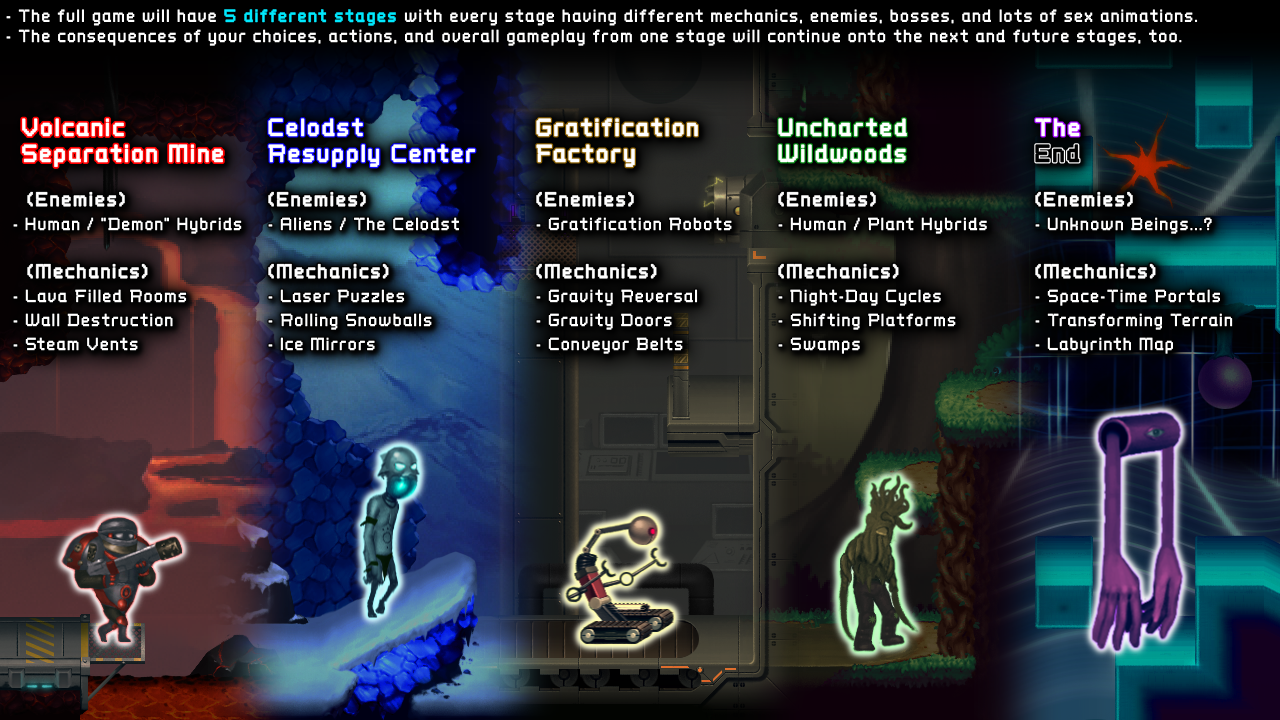 ------------------------------------------------------------
With that all said, feel free to try out the game and let us know what you think of it!
Thanks again for reading all this, and we hope you enjoy trying out the Future Fragments v0.51 Demo!

| | |
| --- | --- |
| Updated | 4 days ago |
| Status | In development |
| Platforms | Windows |
| Publisher | |
| Rating | |
| Author | HentaiWriter |
| Genre | Platformer, Action, Puzzle |
| Tags | 2D, Adult, Erotic, Female Protagonist, free, Hentai, Pixel Art, Voice Acting |
| Average session | A few hours |
| Languages | English |
| Inputs | Keyboard, Xbox controller, Playstation controller |
| Accessibility | Subtitles, Configurable controls, Interactive tutorial |
| Links | Community, Patreon, Twitter, Soundtrack, Support |
Download
Click download now to get access to the following files:
Future Fragments v0.51 - Volcanic Mines Pre-Polished Demo.zip
435 MB